The princess of R&B is a title well-deserved for the late Aaliyah Dana Haughton, who is considered one of the best female R&B artists of all time. As her career was at it's peak, her life was tragically cut short in August of 2001..& the general public has not recovered ever since.
My love affair with Aaliyah began as a kid, since my mom was a huge fan. My mom had all of her single cds and albums (they were stolen from her car a few years back, & two years ago I was able to buy them all over for her,) so I had no choice to embrace and appreciate Aaliyah's contributions to music.
You may ask yourself why does Aaliyah deserve to sit at the table of legends. "Her career was beginning to be at it's peak at the time of her death," "If she was alive today, she wouldn't be as big as she was back in the day," "Aaliyah couldn't sing," are just a FEW of the statements that surface when Aaliyah's status as a legend is questioned.
Well loves, Aaliyah's impact is STILL being witnessed today, as most of our big stars today are influenced by "Baby Girl." (Just to name a FEW: Rihanna, Cassie, Ciara, Beyoncé, Monica & Chris Brown). Having an urban contemporary sound, Aaliyah easily defined R&B music in the late 90s & early 2000s..with the help of her frequent collaborators Timbaland & Missy Elliott.
This month will mark the 38th anniversary of Aaliyah's birth, so I wanted to create a post that gives Aaliyah her flowers..because they are rightfully deserved.
Age Ain't Nothing But A Number – 1994
Highlights: Street Thing, At Your Best (You Are Love,) Back & Forth, No One Knows How To Love Me Quite Like You Do, I'm Down, Young Nation, Down With The Clique.
Aaliyah's debut album is underrated & often overlooked because of her personal relationship with R. Kelly, but you can't neglect that his production and lyrical content made this album an incredible affair.
A twist of New Jack Swing, hip-hop beats & Aaliyah's sultry vocals, Age Ain't Nothing But A Number is one of those albums that will never get old because of that essential sound the 90s brought us. It's the only album of hers that is easy to come across on steaming platforms, & on online retailers so appreciate this gem please!
P.S…For those of you who said that Aaliyah's death made her albums sell, this album made her the best selling artist of 1994. 💅🏿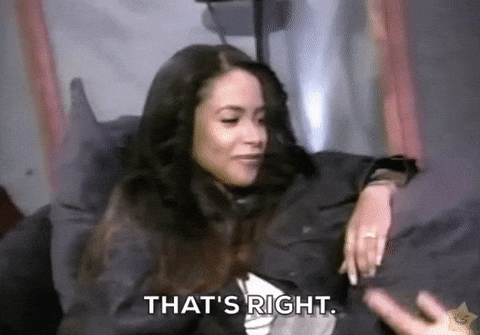 One In A Million – 1996
Highlights: Never Givin' Up, Choosey Lover (old/new school,) Giving You More, Heartbroken, Hot Like Fire, One In A Million, If Your Girl Only Knew, The One I Gave My Heart To.
Aaliyah's second studio album cemented her status as the princess of R&B with silky smooth ballads (Never Givin' Up, One In A Million, 4 Page Letter, Heartbroken,) and giving old school jams a new sound (Choosey Lover, Got To Give It Up). Every song on this album is something amazing, & we have to thank Timbaland & Missy for bringing something out of Aaliyah anyone couldn't do.
The heartbreaking The One I Gave My Heart To hurts to listen to even to this day, because you can tell that this song meant a lot of her. She gave it emotion, rawness, and gave it her all.
Hot like fire? A BOP! The studio album version & the Timbaland remix will get me to acting a fool in any setting lol. Aaliyah's ear for music was simply perfection because every song on this album was a hit, & timeless. When will your fave? 🤗
During her break from making albums, she had success with songs for movie soundtracks. Her song Journey To The Past was featured on the soundtrack for the 1997 animated film Anastasia. One of her most memorable songs came with Are You That Somebody, which was on the Dr. Dolittle soundtrack. I Don't Wanna from the Next Friday soundtrack is one of my favorite songs of all time! Also, Aaliyah ventured into acting! Romeo Must Die & Queen Of The Damned were two films that she have done, & it hurts that she didn't do more films because I felt like she was a great actress.
The quality of this TRL performance of I Don't Wanna is horrible, but I remember it like it was yesterday!
Aaliyah received her first #1 hit on the pop charts with 2000s Try Again, which was featured on her hit film Romeo Must Die's soundtrack. It was a prequel for what's to come on her self-titled album. Try Again sounds so fresh to this day, with Aaliyah's organic vocals & Timbaland's impressive production.
Aaliyah – 2001
Highlights: We Need A Resolution, Loose Rap, Rock The Boat, I Care 4 U, More Than A Woman, Read Between The Lines, U Got Nerve, Extra Smooth.
I was in the 2nd or 3rd grade when We Need A Resolution was released as a single. It was one of my favorite songs that my mom would play in the car that spring & summer of 01. It was something addictive about that song that I couldn't get enough of. & the video? OHMYGODDD. Perfection!
Well..Aaliyah's final studio album is easily one of the best R&B records of all time. Debate with your mama, because that's not changing anytime soon. Rock The Boat, Loose Rap, Extra Smooth, Read Between The Lines? PERFECTION! One thing I loved about Aaliyah, is that her albums were not filled with album fillers. Every song were potential hit makers. It was Aaliyah's first album where she was credited as an executive producer, and you can tell she had control over the material and music videos.
What makes her self-titled album so special, is not because it was her last body of work, but because it was ahead of its time. It could be released today in 2017, & it would prosper. It was authentic R&B, with elements of neo-soul, rock & funk. The Aaliyah album is the definition of timeless.
Aaliyah Dana Haughton was a pure angel. Not only was she a beautiful woman, but she was an incredible entertainer. Those who have met Aaliyah say nothing but positive things about her, because she had a wonderful spirit! It was something about her that kept people intrigued. Her influence in the world of music and fashion is still appreciated to this day, which makes her one of the greatest human beings to grace this earth. Aaliyah will always be adored by her die-hard fans, & I hope that this appreciation post gives a new generation a chance to get to know the young angel who was truly ONE IN A MILLION. ❤️